About
WHY EL COMPAÑERO?
El Compañero's Bareback Pads are an excellent tool for building a closer relationship between horse and rider. You will stick like glue to your seat experiencing center and balance with our back pad (soft saddle).
The Bareback Pad is hand made from soft, pliable suede that conforms to the back of YOUR particular horse, adding comfort and allowing the rider to sit in a more natural position. Because of the material, design and close contact of our bareback pad, you "stick" to your seat experiencing centering and balance. This enables your spine to remain aligned naturally and comfortably, thus improving posture, balance and flexibility. Due to the close contact with your horse's movements from our bareback pad, both your leg and thigh muscles remain relaxed, causing a warm massaging effect. This also increases muscle tone of the rider as proven in therapeutic riding. Used by NARHA throughout the United States and Canada.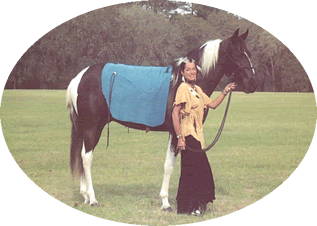 Linda Littlewolf with the El Companero Turquoise Bareback Pad
The El Compañero bareback pad provides a more natural way to ride by allowing closer rhythm and harmony with your horse, enabling greater endurance for both horse and rider.
El Compañero
3 Greenbriar Lane
Millstone Township, N.J. 08535
You may call us at 609-240-6728
Questions? Contact Us for more information.