Reviews
Bareback Pad In the news:
The Packet Group
"They say they've never experienced such contact and communication between their horse and themselves…"
Read The Entire Article Here
Trail Rider Magazine
"The one-inch of foam inside is the perfect amount of padding and the soft suede leather holds you in place like Velcro…"
"The one-inch of foam inside is the perfect amount of padding and the soft suede leather holds you in place like Velcro…"
View Article
Customer Testimonials for our Bareback Pads

3/15/18 I purchased the El Companero bareback pad about 1 month ago When I opened the box and took a good look at it I thought well this is a pretty simple pad it was beautiful in design but figured I probably purchased another pad just like the others and no big deal except for this one I paid a lot more for it. Now mind you I have a small horse around 800 lbs 14.5 hh and 24 yrs old pretty boney on top line. My saddle has become uncomfortable and unstable on him he would toss me around and unseat me because of his boniness Not his fault. So I put on the el campanero it fit him perfect and he seemed to really like it. Got on him and WOW! so very comfortable I sat on him with sureness and stability we went around we trotted we did circles we went around barrels and I NEVER WAS UNSEATED OR FLOPPED AROUND I sat perfectly straight up and balanced like NEVER before. This is literally the best bareback pad I ever had and even Maverick seemed more confident…we were balanced together and he felt it. I had to tell you my experience I will NEVER use anything else ever!!! Thank you so so much. You have made me love to get up on him again and he loves it too. Much appreciation.  Nicole Matthews
So today was my first chance to go riding!! I was nervous to say the least because I was riding a green horse for the first time that I haven't had very long. I put your bareback pad on him and got right on! Getting on was much easier then I anticipated, he is a taller horse so I wasn't sure how it was going to be .. after about 10 min of riding I started to relax and really felt the pad forming to the horse.. By the end of the ride I truly couldn't believe it .. I was way more comfortable then I had ever been at the end of a ride in a saddle.. the horse i was on bucked a few times, bolted, and spooked during the ride (he needs lots of exposure lol) never once did I feel like I was about to come off.. I stuck to him like glue! Communication was easier then ever.. I ride alot with leg ques the horse could feel them immediately because there wasn't much between us!! I will do everything I can to spread the word about this pad yall have done an amazing job designing a pad that not only helps with balance and posture but also horsemanship.. I am beyond satisfied and I can't thank yall enough for such a beautiful pad.
Melissa
MO
Hi Pat, I love the El Companero Bareback Pad! I find it comfortable with a dressage pad that only has partial fleece on the back and the sides are just quilted. The white fur collar also looks very nice with the toast color leather. Going from the saddle to the pad was like moving from a stool to a couch, the pad is so much more comfortable! I like the way I sink down into it a little and the foam and the leather mold around me and really makes me feel secure. I took Brody out on the trail alone. We went uphill, downhill and gaited both well and poorly and I stayed anchored for the entire adventure. When I ride bareback without the pad, I often bounce out of place and when I get off I can hardly walk because my legs are so stiff from gripping and trying to hold myself on. When I rode with the El Companero Bareback Pad, there was no bouncing and no gripping and my legs felt really good and energized when I dismounted. I have a treeless saddle that provides close contact but still can't compete with the bareback pad. It was much easier to communicate with Brody and I found I had to correct my seat to get the right command which wasn't an issue with the saddle so I'll end up a more skilled rider the more I ride with the pad. The only note of warning that I would add is that the leather is authentic and therefore spooks the horse at first contact. I spooked my own pony in the stall when I first brought it in to put it on and then have subsequently spooked each horse of every other owner I have taken it out to show it to. Once the horse accepts that it is no longer alive and capable of eating them, they calm right down but the first reaction is not always expected. Thank you for making a special pad for Brody! It fits him really well and he has to prefer it over the saddle as much as I do. I'm motivated again and looking forward to a fun riding season ahead! Thanks again! I will continue to show it off and hope to send some referrals your way.
Take Care,
LauraPat, wanted you to know I purchased one of  your pads YEARS ago at a trade show in GA….I think 2002?? It is still going strong and is my go to riding implement.  I have a green horse and I still feel more secure in my el companero than my saddle!!  Thanks for such a great product!
Thanks  A Austin
Hi Pat:
I received my El Companero a couple of days ago and had the opportunity to try it out last night.  All I can say is THANK YOU VERY MUCH! Last night I was in pain before I mounted my horse (I've had a few falls over my 40+ years of riding – the worst just a few years ago that severely injured my neck and shoulders) – but when I dismounted I was pain-free and elated.  I had phoned a friend to let her know that I would be riding  with my new bareback rider (I ride alone – so in the event she doesn't hear from me she can come and check)  – with 20 minutes being my maximum time that I have been able to ride due to pain.  Last night I rode for over 40 minutes and only dismounted when I realized that I should call her back to let her know that I was OK after checking my watch!  I was having so much fun – and the best thing about it was so was my horse!  He actually gaited for the first time without being upset or concerned – and I never moved – even when he spooked.
Thank you for your incredible pad!
I am so sold on this pad that I can't believe it. One of the good things about it that I never told you was the fact that I no longer dread having to saddle my horse. The pad is so light it doesn't hurt my back lifting or carrying it. Such a pleasure. As I told you before, I am kept so true in the pad that I no longer lean to one side therefore keeping my back from having to compensate. That means fewer back pains and longer hours of riding. Being able to feel my horses every move also alerts me to when he sees or feels something that I don't see or know about. I don't slip and slide on the pad like my leather saddle. I am held very close and comfortable whether going up or down a hill or if he should happen to shy and move quickly to any side. I love it, I love it, I love it!!! Thank you so much and please don't stop making it.
Marie S.
Good Evening,
I purchased one of your pads about 3 weeks ago.  I just love it love it love it.   I was a New York City Mounted Police Officer for 12 years, and in that time i  rode all over the city. Unfortunately, most of the time all we did was walk on the streets of New York City.  My confidence level was never that great, but after having my own horse for the past 2 years, I am retired 10 years now, i have been riding daily with a circle y saddle.  My seat is getting better, but using your pad, holy cow,,,,,,,,, what a difference.  I actually cantered today on the beach for only the second time, but for a good distance, and i have total confidence in my riding because of your pad.  Thanks.
Hi!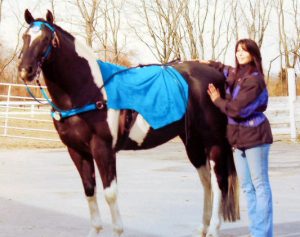 I have had my bareback rider for several months now, and aside from the huge compliments I get on how pretty it is, it is the best bare back set I have ever used. I swear I will never use another set again. I stick like glue, and have no misgivings even at a full gallop on my very frisky filly.   I have told numerous people at my barn about it, and I plan on getting a set for my girlfriend and her horse for her birthday. I can't say enough about this set!
I've attached a picture of me and my girl Cassie. She's gorgeous in it.
Thanks,
Dawn Sorrento
I was surprised at how secure I felt on El Companero, it doesn't slip at all. I've tried others, but this by far is the best. This pad has good therapeutic value. It makes riding bareback more comfortable, it strengthens my legs and my dad's injured back muscles! It is definitely worth the money!
Lauren B
Happy Camp, CA
Hello, I received my Bareback pad, and have nothing but good things to say. With 35 years of solid riding experience the only other product that I have ever given A+ to is the supplement, 'MSM'. Never have I been happy with a saddle, and I have ridden in $3000 custom saddles to $200 el cheapos, ALL of them eventually led to a bitter, sore horse.
My mare fractured her pelvis in an accident, so after many months, the first time I got onto her back was with the 'El Campanero pad'.  I took her straight out onto the tarmac, bulldozers, flying past me and soccer mom's on cell phones speeding recklessly and all! She had never experienced such close contact and was unsure at first, but within minutes we were one – it was a splendid feeling!
The next day I went out and did a little cross country riding. My mare is a Standardbred and is capable of pacing at extreme speeds of 30 MPH! I was a little reluctant to pace her out, bareback as she paces faster than most horses gallop, but I stuck like glue!!
For the first time ever my mare did not swish her tail with resentment from saddle pain, or try to buck downhill, it was sheer heaven – I will NEVER ride her in anything else again. Now all I have to do is convince Hubby to ride his 30 MPH Speed Racking horse with one – I'm workin on it!!
Thank you for one of the best, most well thought out, and beautiful pieces of horse equipment ever!! a 10 outta 10!!
Jesse A I really enjoy our "Bareback Rider" even though I've only ridden on it a few times. It's so much more comfortable than my saddle!!!
One time we took our dogs along and they kept running into the woods and scaring my Mom's horse and my pony. Even though they were spooking and running around, I was still stuck like I was glued to his back!!!!
I must say that I will never want to ride with my saddle again. I love our El Compañero Bareback Rider!!!
Amanda
Maryland
"Asking for a canter, canter, and. it sticks!!! Joy!! And there I was laughing and putting my hands in the air!"
Carine Delbaere
France
"A unique interpretation of the pad used by my ancestors which truly gives the horse and rider the ability to move in unison, experiencing an extraordinary physical and spiritual connection."
Linda Little Wolf
Lakota historian, lecturer, author, and performer.
Author of "The Great Spirit Horse" and "Visions Of The Buffalo People"
"My experience is that the Bareback Rider is very comfortable and it is easy to stay in a good, safe, balanced riding position. The warmth and feel from the horse's body offers an opportunity to improve your riding skills & to become more in harmony with your horse"
Gary Convery
Pleasure Valley, Ontario  Canada
"The Horse Whisperer Of Canada"
Clinician, Trainer, & Horse Lover.
"It was actually somehow easier to sit his spook –even in a spin-in that Bareback Rider. I am loving that pad more and more daily. You may have saved my Zephie's back and our ability to ride together. Thanks so much!"
Nikki A. Wall
Nevada
Hello El Companero,
I purchased one of your bareback pads last year and have been riding in it for several months now. I am absolutely in love with this product! More importantly, my horse is also in love with the bareback pad and prefers it to either of my saddles. I doubt that I will often ride in my saddles again because they steal from my horse and I the closeness of communication we have now! It proves my point that you don't need to "shout" at a horse with aids – you need only sit quietly in the spot nature intended for both the horse and the person and "whisper" your requests.
At first my friends were skeptical and thought this bareback pad would be like all the others they had tried in the past. They are amazed at how wonderful it is for staying put on the horse and for allowing the rider to stay put. They are also amazed at how my young 4 1/2 yr. old American Paint is so responsive and a willing participant in riding. We do basic dressage moves and it doesn't even look like I'm cueing her because she can actually read my subtler body language.
One of my daughters trains in high level dressage with a coach who was the Russian Olympic Dressage Team Coach in the 70's and 80's. She took the bareback pad over to show them and they, too, fell in love with it and are planning on purchasing one soon. The coach's wife, who also teaches riding, believes it would be the absolute best way to teach beginning riders how to really develop good habits from the beginning.
I also get a smile these days when it's so cold because my friends are shivering in their fancy saddles but my mare and I keep each other warm! How great is that!
Thanks so much for developing this bareback pad. You impact my life (and my horse's) with peace and happiness with each ride. Thank you, thank you, thank you!
Sincerely,
Lorraine Sakaris and Nidawi
You may call us at 609-240-6728  Questions? Contact Us for more information.