History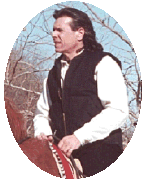 Through a great longing to become "One in Spirit" with my Tennessee Walker, Dolcinea, I was inspired to create El Compañero Bareback Pad.
As I rode alone in the early morning hours, when the sights and sounds of the wooded trails are peaceful and mystical, and the birds begin to wake, and I felt myself a part of the landscape, the more I felt the need to become one with my companion. This feeling was the origin of the name El Compañero "The Companion".
To create the physical sense of oneness, I had only to think of the Native American, using just a piece of leather to achieve this sense of union. Beth, my partner, friend, and great source of encouragement, though previously an English rider, now with her own Compañero, has experienced a far greater oneness with her Quarter Horse, Tigger. As a life long rider and a Certified Rehabilitation Counselor, Beth reinforced my belief in the value of El Compañero for riders with special needs. Both Beth and I realize how special a gift this is and are very focused on sharing it with disabled, as well as able-bodied riders.
Find out what El Compañero is all about!
"Be One in Spirit in Flight"
Patrick J. Liquori
El Compañero
3 Greenbriar Lane
Millstone Township, N.J. 08535
You may call us at 609-240-6728
Questions? Contact Us for more information.